Regular price
Sale price
$53.00 CAD
Unit price
per
Sale
Sold out
Share
Ramadan Tabletop gift set was created in hopes of children observing and remembering Ramadan is a month of mercy and blessings. 

DETAILS
Includes plate, bowl & tumbler
Material: Melamine 
Non-toxic, durable, BPA-free and Phthalate-fee
Packaged in a 11"x11"x4" custom box 

Origin: Imported
DIMENSIONS
Plate: 10" diameter

Bowl: 6.5" diameter, 3" high, 29 fluid oz
Tumbler: 3.46" diameter, 3.58" high, 10 fluid oz
CARE
Wash before first use
Dishwasher safe
Do not use in microwave
Do not use tumbler with hot liquids
Don't forget to check out the BUNDLE SET! 
View full details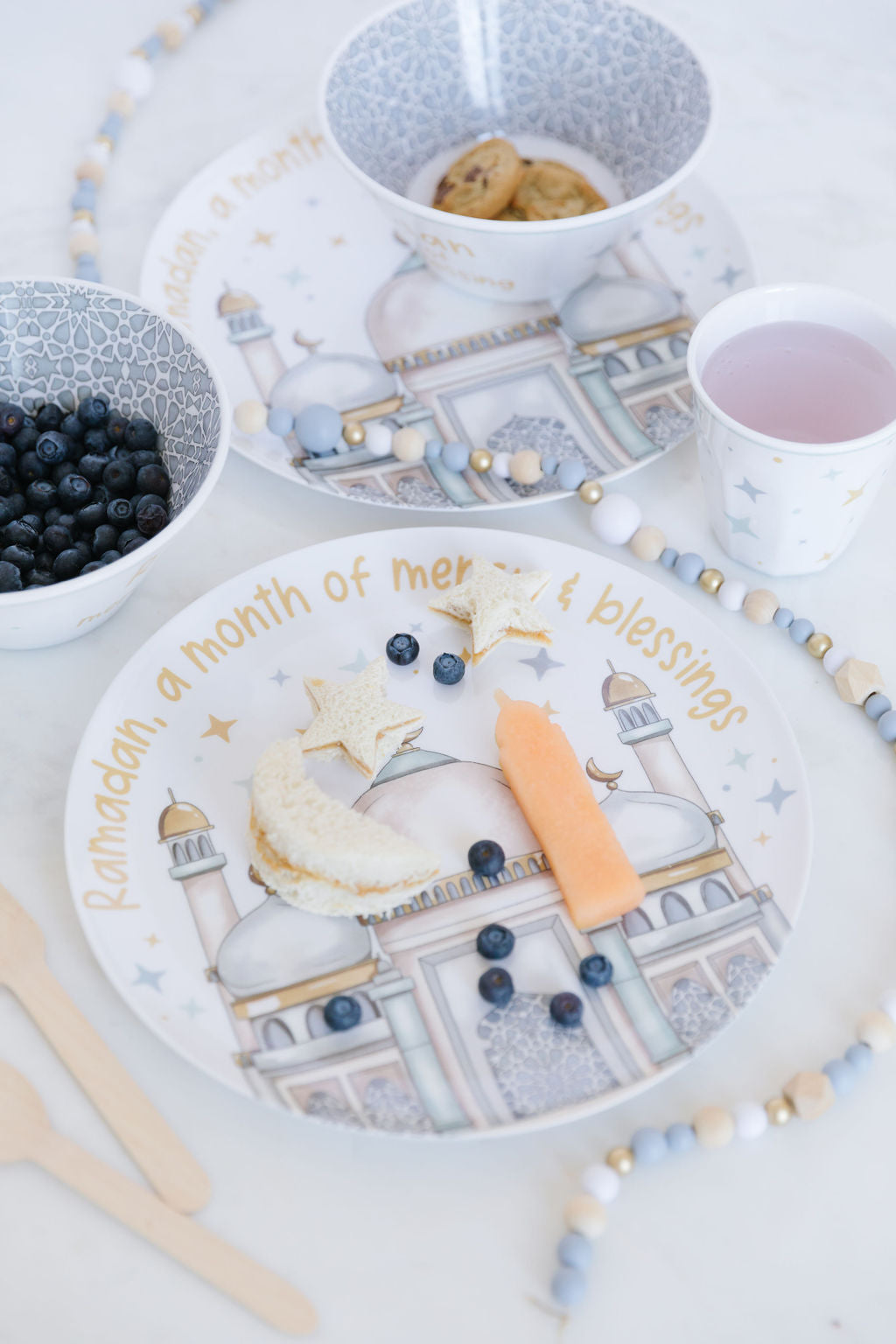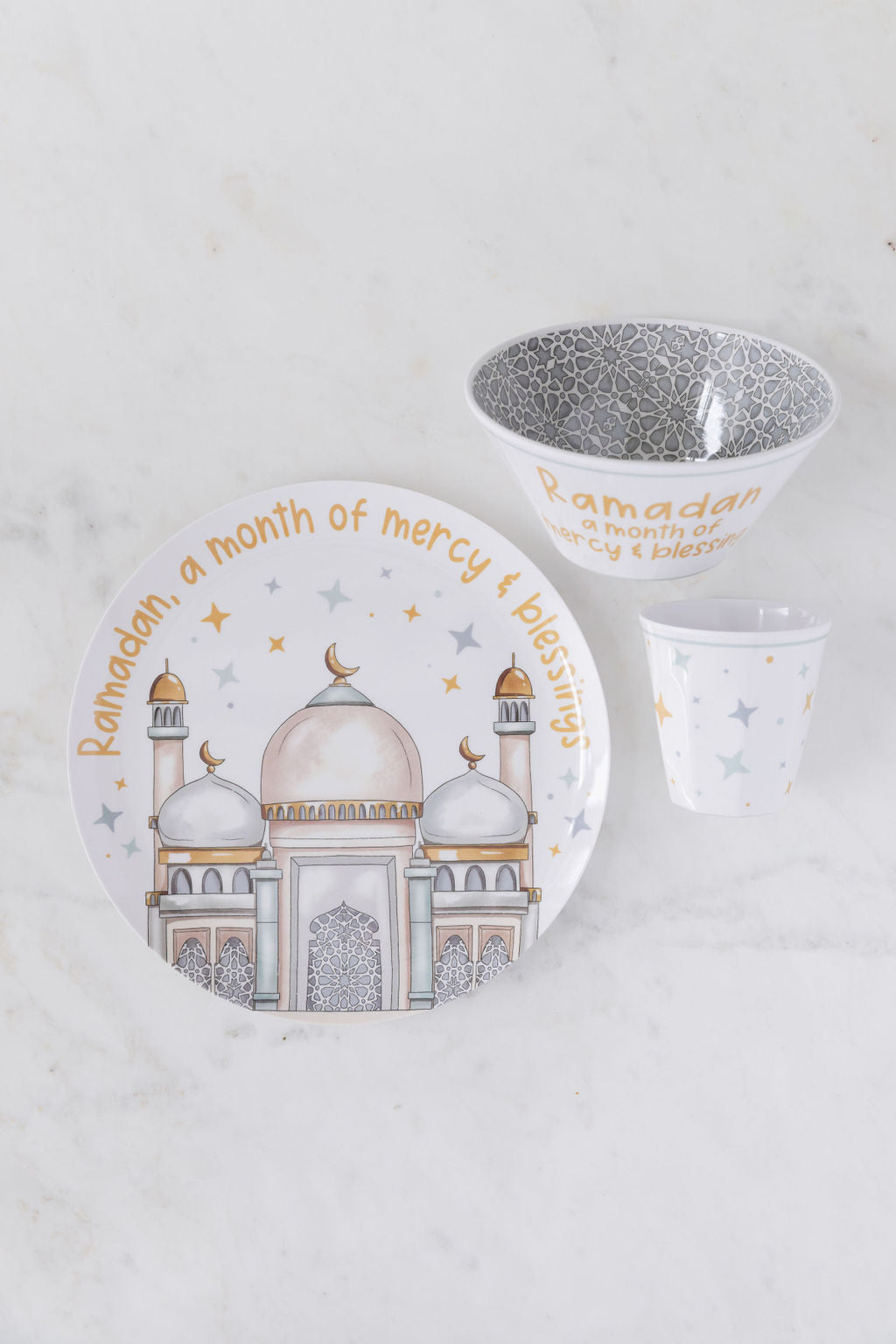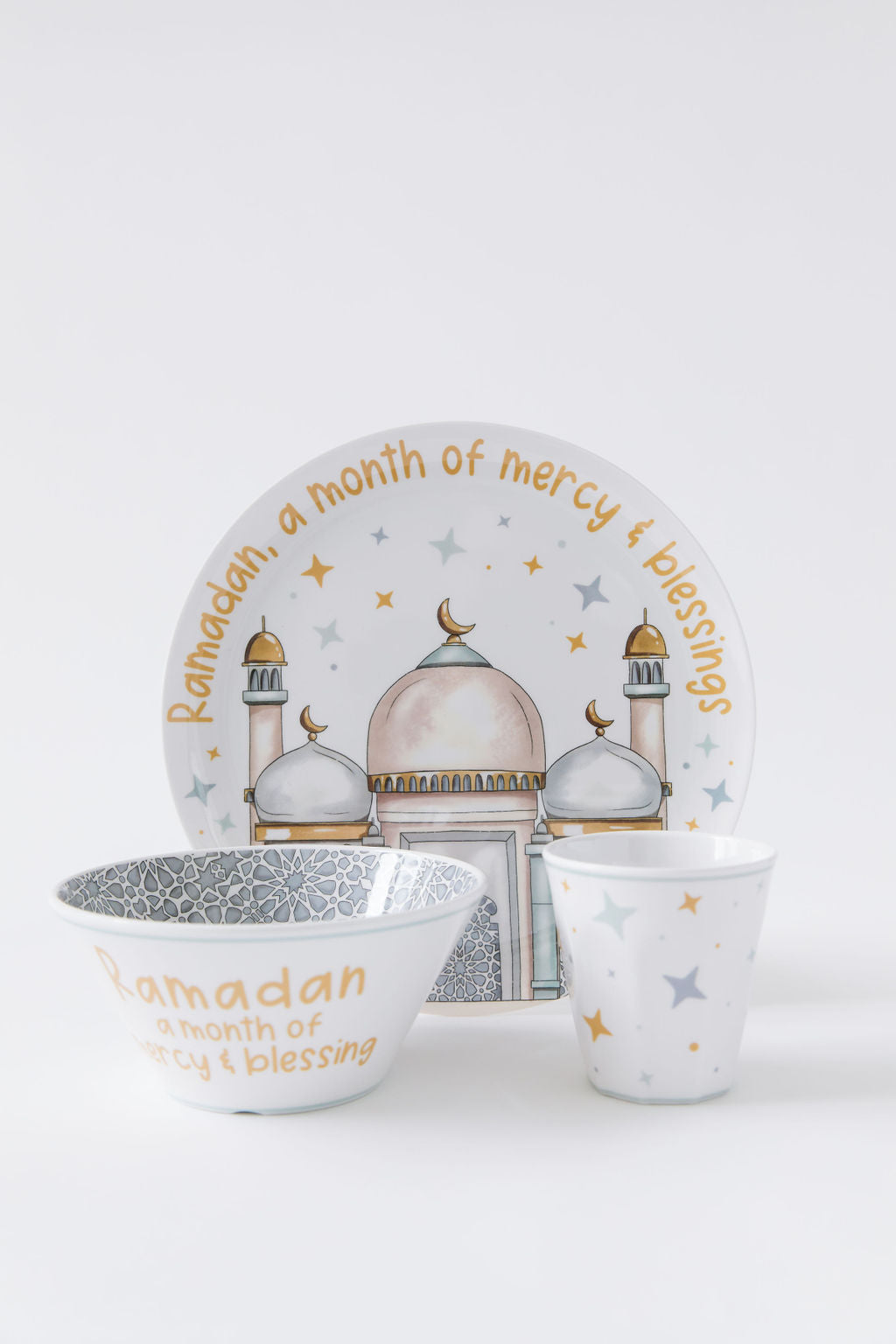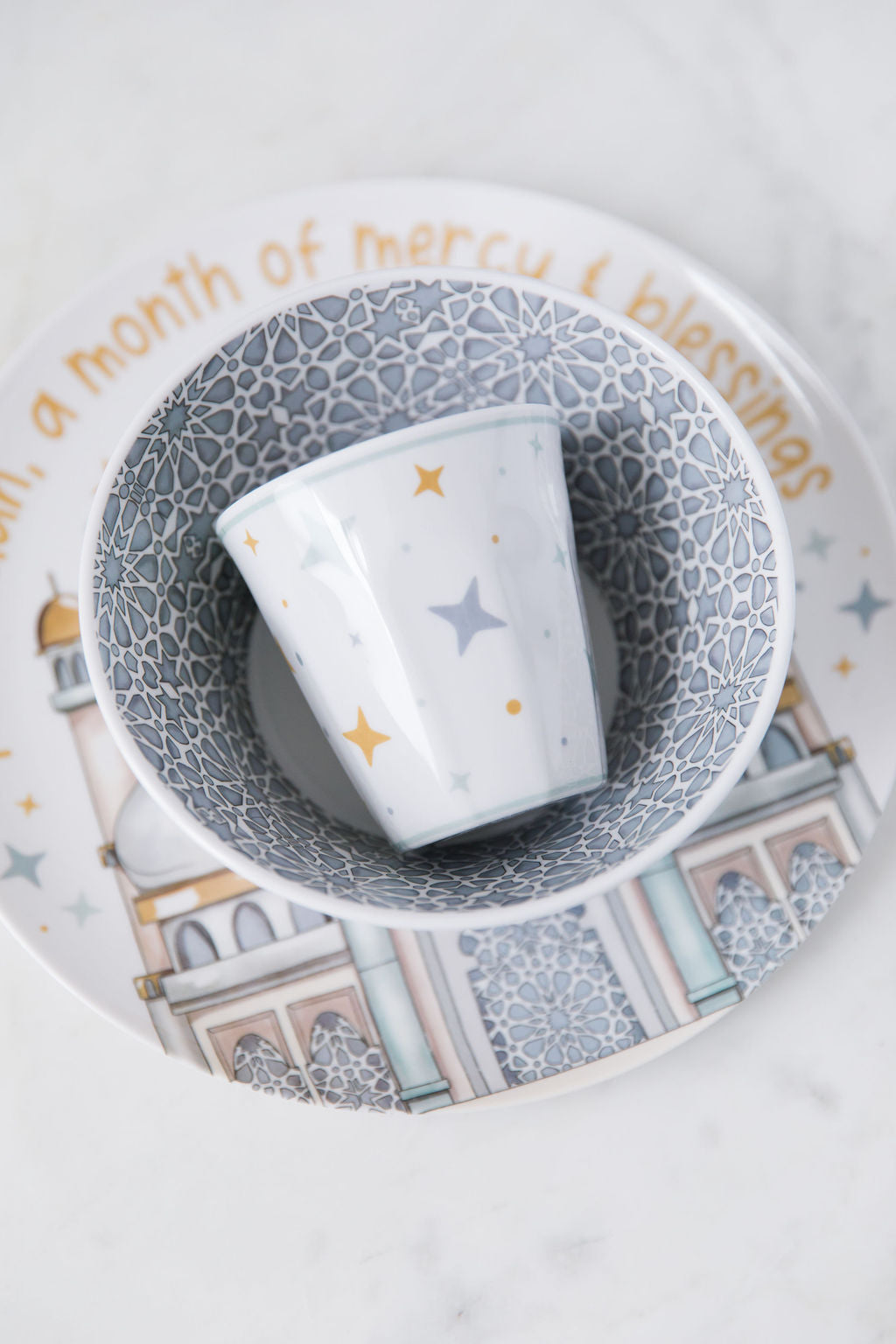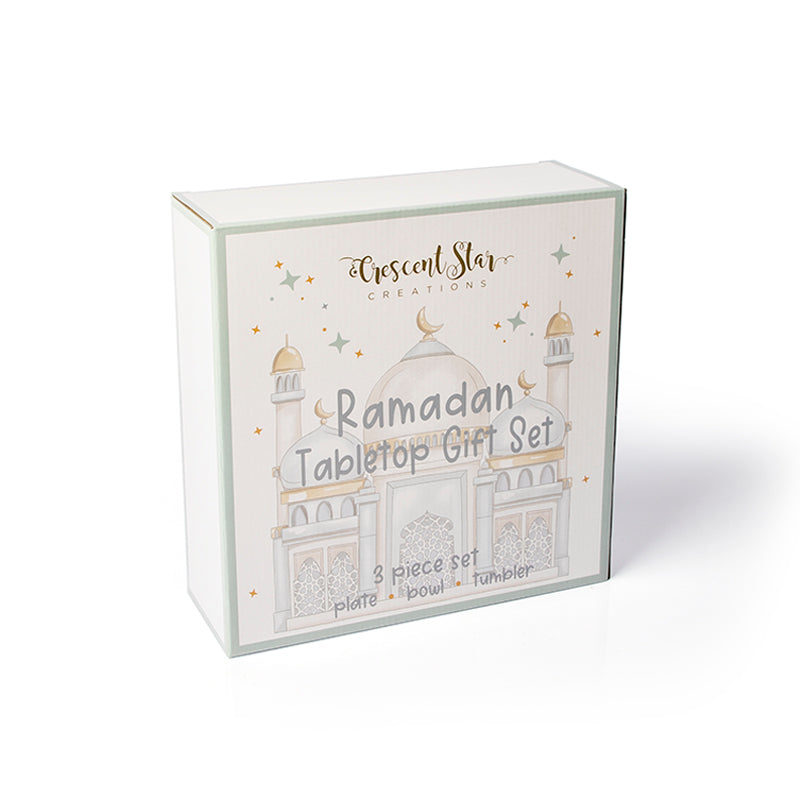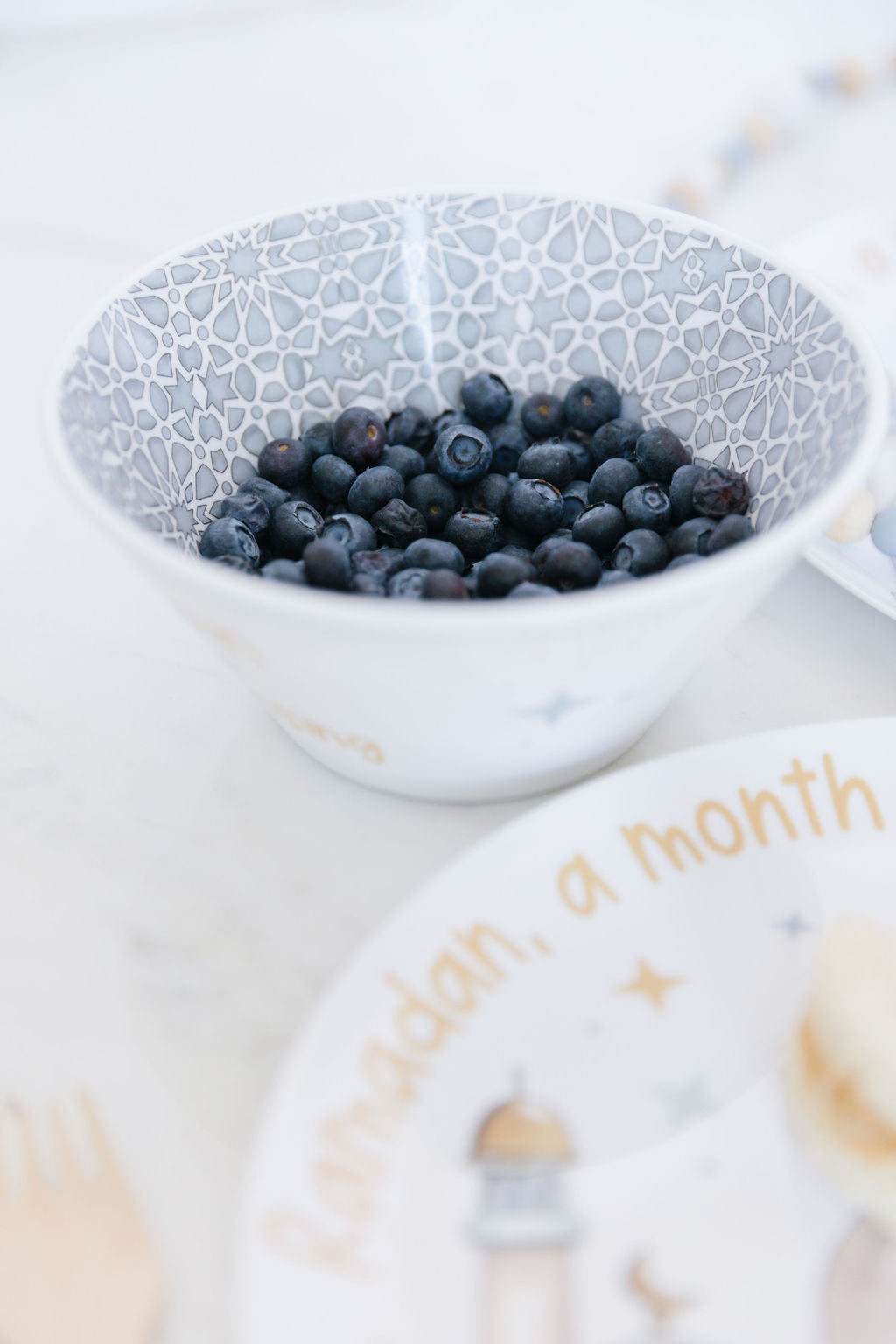 Love the product, best quality and quick delivery! Highly recommend!
Beauty - Quality & Perfection !
This is our first purchase from CrescentStarCreations as we just got to know about this brand lately, everything looks Amazing !! The Ramadan Tabletop gift set for kids is absolutely splendid !!
Our son loves it and we (parents) as well! he was so happy going around checking every piece saying Wow Wow Wow !! :) Everyone who sees this set finds it so beautiful !!
We were blown away by the quality !! It's beyond our expectations as it's not the regular standard kids tabletop set, it's really solid and thick, and the size is large even an adult can use it! It's really a set that can be used for public iftars (young & adults), easy to clean and no doubt it's a long lasting product ! Your kid can use it for years to come insha'Allah/God willing.
We were in LOVE with the design! We really applaud everyone who were behind this incredible work, time and effort spent to come up with this dreamy feel of a simple idea of a Masjid/Mosque that really brings out the beauty of the Architecture that we see around the world! A mix between the breath taking Architecture of the Sheikh Zayed Mosque in Abu Dhabi, The Badshahi Mosque in Lahore Pakistan, and The Taj Mahal with the additions of the Arabesque pattern that pretty much is used in everything but never gets old due to its beauty! The colors chosen are simply perfect! Pleasant to the eye, soft, pastel yet earthy-stone colors with the touch of gold that just blends with everything! We just loved how the cup was made & the feel! The extra detail of the arches all around the cup looks exactly as the Moroccan tea cups, but this is not only a design printed or added but it's the shape which is a brilliant way: the cup isn't slippery! In other way the table top set is well designed that will also keep stimulate our child's sense of touch while eating as he is a little curious :) manipulating a different material & shapes, looking at different designs & colors etc... The packaging itself is of an outstanding quality! It is so beautiful that we kept it!
A really beautiful based faith product that will last for years, great quality! Worth the price!
THANK YOU CrescentStarCreations for your outstanding work!
BLESSINGS !!
The cutest set
I bought 2 of these Ramadan sets for my kids and I plan on using them only during Ramadan as a surprise for them. I'm in love with the adorable design and the gorgeous packaging! I can't wait to use them Inshallah!
Beautiful set
Bought this gift for my niece who is 2! She loved it! Very good quality. Looks like it will last for years!
love it
Love it! my niece and nephew were so happy!